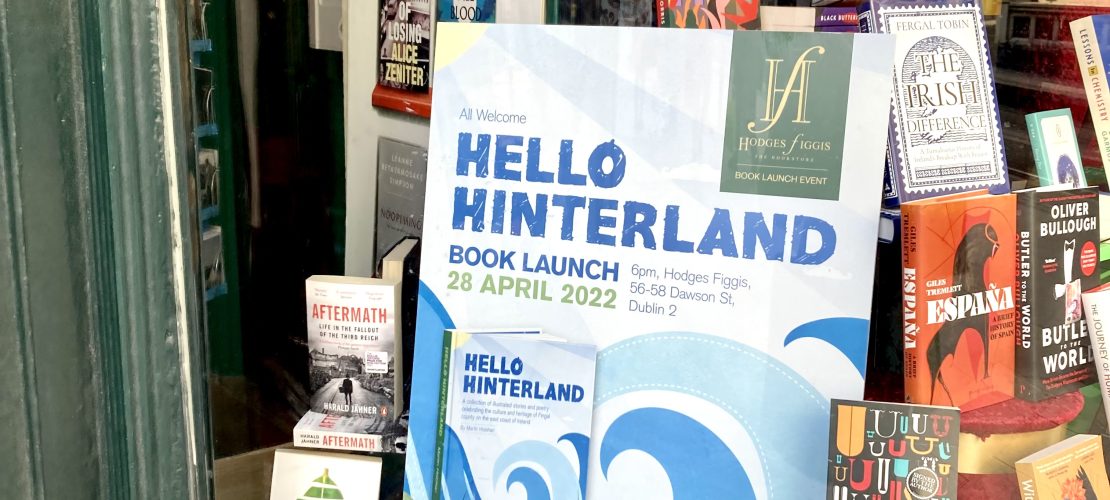 Events
Hello Hinterland Book Launch at Hodges Figgis
April 28th 2022
Last Thursday evening saw the launch of the new Illustrative book Hello Hinterland at the famous Bookstore.
Both Author Martin Holohan and Illustrator Clare Lynch read various Poems and Stories from the Volume to a very enchanted audience on the first floor.
Both Artists were indeed very comfortable throughout the Launch cajoling the crowd along with tales that were always imaginative, displaying well rounded accounts of the Fingal countryside on the east coast of Ireland…a mere stones throw up from Dublin City.
The audience it has to be said certainly became as relaxed as the Artists as they happily engaged in the array of finely crafted nibbles and excellent refreshments on hand.
This book will I feel go down very well with the general reader who has an interest in history and culture, since it is written in a very folkloric and conversational style.
Hello Hinterland is available from Hodges Figgis, Tales For Tadpoles, both situated in the centre of Dublin, Alan Hanna's Book Shop in Rathmines, Dublin 6 and Antonia's Bookstore in Kells, Co. Meath. It can be ordered online at Choicepublishing.ie through their online bookshop and on the Tales for Tadpoles website.
Event Photography by Now Media Live.
More events and poetry readings to follow soon…